Succulents are a great choice for those who are starting their gardening journey. Among the succulents, Kalanchoes are extremely popular among plant lovers as they come in a wide range of shapes, colors, and sizes. There are about 125 Kalanchoe species to choose from. Whether you want to add greenery to your home, colorful flowers in your garden, or surround yourself with beautifully textured plants, Kalanchoes offer them all.
Along with the beauty they spread through your home, Kalanchoes are super-easy to grow and maintain. They have minimal watering needs and can survive pretty well in the temperature range most of us maintain indoors.
Easy-to-manage Kalanchoe Succulents recognized
Though most Kalanchoe varieties are easy to grow, some have particularly been awarded for their ease of growth and minimal maintenance needs by the British Royal Horticultural Society (RHS). These Kalanchoe varieties have received the Award of Garden Merit (AGM) that testifies their high survival rate even with low maintenance. Let us find out these beginner-friendly Kalanchoes for giving a good start to your gardening journey.
Kalanchoe for beginners in a pot
Growing Kalanchoe in a pot comes with many benefits. It is convenient to transfer the Kalanchoe pot outdoors for exposing them to some bright indirect sunlight and indoors when the temperature outside is either too hot or too cold. A Kalanchoe pot with holes at the bottom can be used to regulate the water needs of the succulent. A wall shelf full of different Kalanchoe varieties would look pretty amazing in your living room. Here are some beginner-friendly Kalanchoes for pot plantation:
Kalanchoe Tomentosa
Kalanchoe Tomentosa is a popular houseplant commonly known as Chocolate Soldier or Panda Plant. This velvety succulent is loved by children and can be a perfect addition to their rooms. The texture of the leaves and dark-red leaf edges give this succulent a beautiful appearance.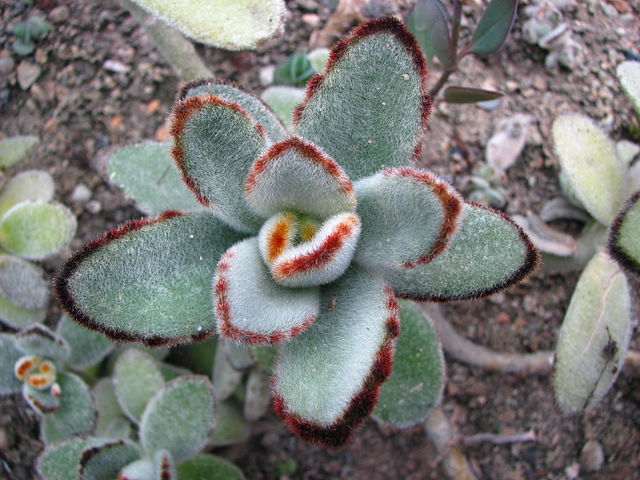 These leaves are arranged in loose rosettes on woody stems and predominantly feature silverish-white color. Small tubular flowers in green, purple, or yellow-brown colors can be seen on the branch tips in summers. Most people prefer to grow this succulent in pots as it reaches just up to 2 feet in height.
Kalanchoe Luciae
Kalanchoe Luciae is commonly called Flapjack or the Paddle Plant because of its paddle-shaped leaves. It grows up to 2 feet tall and spreads by offsets up to 3 feet wide. The evergreen succulent features basal rosettes of flat, obovate, fleshy leaves that range from jade green to yellowish-green to grayish-green in color and have red or pink margins. The smooth 4 to 6 inches long leaves have blunt rounded tips and are covered with powdery white or gray coating.
The leaves might turn completely red in cooler temperatures. The late winter or early spring season brings in beautiful bloom with pale-yellow tubular flowers arising from the stems. When grown in a pot, you can control the red blush appearing on the Luciae leaves by controlling the amount of sun exposure it gets.
Kalanchoe Marmorata
The Penwiper Plant or Kalanchoe Marmorata is an attractive shrub-like succulent grown mainly for its foliage. This Kalanchoe species grows upright with large grayish-green to yellowish-green leaves gently scalloped at the edges. Growing up to 15 inches in length and spreads up to 20 inches in width, the succulent can be used as a green cover in your garden.
However, many people prefer planting it in a pot to provide it with the right growing conditions. The main attraction of Marmorata is its leaves that display a marbling pattern in the form of beautiful purple spots. Early spring also brings in clusters of small, starry white flowers that might have a pink tinge as well.
Kalanchoe for beginners in a hanging basket
Kalanchoes in hanging baskets are perfect for adorning your windows or house entrance. Many Kalanchoe species look beautiful in hanging baskets and can be used as part of interior decoration. Such hanging plants enhance the positivity and charm of your home without occupying much space. Here are some of the Kalanchoe species for hanging baskets:
Kalanchoe Pumila
Also known as Flower Dust Plant, Kalanchoe Pumila is a dwarf subshrub growing up to 20 cm in height and 45 cm in width. Densely covered with frosted leaves, this succulent looks super-pretty in a hanging basket. Round, elongated leaves are toothed at the edges and feature white waxy hair all over.
Beautiful clusters of small purple-veined pink flowers sprout in late winter to early spring and further adds to its beauty.
Kalanchoe Manginii
Commonly known as the Chandelier Plant or Beach Bells, Kalanchoe Manginii is an evergreen decorative succulent growing up to 15 inches in length and creating a spread of about the same width. Manginii features small bushes of arching stems that are reddish. These are upright in a young plant and start trailing as the Kalanchoe matures. The leaves are fleshy, green, glossy, and small – growing up to 3 cm in length.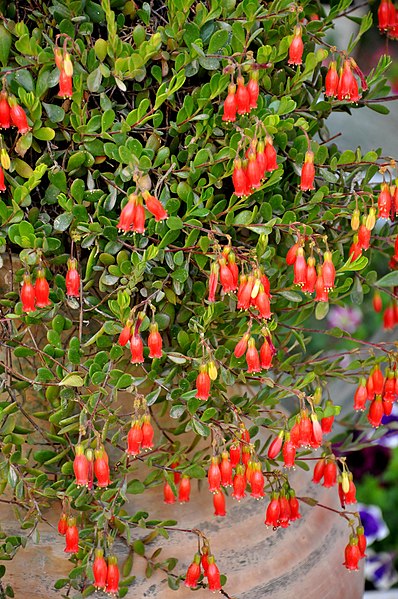 They tend to turn reddish when exposed to bright sunlight. The wiry stems bear clusters of bell-shaped flowers in late winter or early spring. These reddish-orange, pale-peach, or salmon-red flowers are the main attraction of this Kalanchoe species. Though it can be grown in a pot or ground under ideal conditions, the downward-hanging flowers make this succulent a suitable candidate for your hanging basket.
Kalanchoe Tessa
Kalanchoe Tessa is a hybrid Kalanchoe variety created from Kalanchoe Gracilipes and Kalanchoe Manginii. The succulent grows up to 12 inches in height and spreads up to 24 inches wide. The evergreen perennial features thin stems that hang down and bear beautiful oval leaves. These leaves are fleshy, green-colored, and often have red edges. Late winter brings about 2 cm long, bell-shaped orangish-red flowers at the ends of pendent stems.
The succulent is commonly called Pendant Flowered Kalanchoe because of these pretty downward-hanging flowers. Tessa filled with dozens of nodding flowers in its full bloom presents an admirable beauty. As a beginner, you can use this easy-to-grow Kalanchoe as a ground cover as it spreads wide. However, it looks best in hanging pots because of its downward-hanging stems and flowers.
Kalanchoe for beginners in a garden
Kalanchoes are garden-friendly and can be used for spreading the green cover. These succulents can be grown outdoors with warm and mild winters. Protect them from direct sunlight in summers and freezing temperatures in winters. Choose the blooming varieties for adding color to your garden. Here are some beginner-friendly Kalanchoe species for your garden:
Kalanchoe Blossfeldiana
Popularly called Flaming Katy, Florist Kalanchoe, or Christmas Kalanchoe, Kalanchoe Blossfeldiana is renowned for producing long-blooming flowers in the plant world. The pretty flowers can range in color from red, orange, bright pink, bright yellow, magenta to lighter shades like soft yellow, light pink, and white.
They grow and bloom easily with minimal care making them suitable for beginners. This evergreen plant with a height of 12 to 18 inches can be grown for its beautifully textured glossy foliage or for adding color to your garden. People also tend to grow this succulent in pots for regulating its temperature requirements. It is truly a winner among all the Kalanchoe species for the diversity it offers.
Kalanchoe 'Wendy'
Kalanchoe 'Wendy' is a hybrid Kalanchoe variety created from Kalanchoe Porphyrocalyx and Kalanchoe miniata. Wendy features semi-erect stems erupting fleshy ovate green leaves. Early spring brings bell-shaped purplish-pink flowers with yellowish edges arranged in clusters of 15 to 30 flowers each. With a height of 12 inches, the plant looks beautiful in a pot, hanging basket, or backyard. The evergreen succulent can be used as a green cover for your garden and the seasonal bloom will ensure to add color as well.
Kalanchoe Beharensis
If you want to grow a large bushy plant, Kalanchoe beharensis would be an optimal choice. This Kalanchoe is a tree-like succulent shrub that can be easily grown even as a beginner. It is the largest Kalanchoe species and can reach up to 20 feet in height making it appropriate for your backyard or garden.
The evergreen shrub grows slowly and might take years to reach its full height. It rarely crosses 5 feet in length outside of its native region of Madagascar. Beharensis features a long, knotted stem with olive-green leaves arranged in pairs of two at right angles to each other. These leaves are somewhat triangular, distorted at the edges, and quite thick. They are the reason for its common name – Elephant's Ear Kalanchoe.
The super-soft leaves feel like velvet as they are covered with fine woolly hairs that are brown to bronze in color. Small greenish-yellow flowers sprout from the white leaf stalks in the spring and summer seasons.
Kalanchoe Succulents – The Best for Beginners
One cannot deny the fact that Kalanchoe succulents are low-maintenance plants but the above-mentioned Kalanchoes have been specifically recognized as the easiest-growing species making them much more suitable for beginners. All these Kalanchoe varieties can be grown in your backyard, an indoor or outdoor pot, a hanging basket, or a garden depending on your requirements. The above bifurcation is only to help you make the right choice if you are looking for, say, a Kalanchoe that would look best on a wall full of hanging containers. So, use it as a resource for beginning your gardening journey successfully like a pro. Happy gardening!