Native to Madagascar, Kalanchoe is a wide group of flowering plants. These succulents are amazing houseplants and thrive well with just a little attention and care. They have dark green, thick, waxy, and scallop-edged leaves that set off flowers of different colors. The most interesting feature of Kalanchoes succulents is that they not only have attractive foliage, but they also give off attractive colorful blooms.
Kalanchoes will make a great choice for people who love plants for their amazing colors. These succulents will surely make you fall in love with their ultimate beauty. Due to their enchanting appearances, they are often used in theme weddings, home, and office decorations. These brightly colored succulents give a captivating display to the home gardens and landscapes.
Different people have different color choices, luckily you can find a variety of colors in Kalanchoe succulents. You can choose any of the Kalanchoe varieties depending on your color preferences and add it to your home garden.
If you want to give your garden a bright red display you may buy Kalanchoe blossfeldiana with beautiful red blooms, or if you want a pretty yellow you can go for yellow variants of Kalanchoe blossfeldiana or yellow flowering Paddle plants.
Kalanchoe blossfeldiana is the most popular succulent with a diverse range of flower colors. It has several variants which produce red, pink, yellow, orange, white, lavender, and golden flowers. This succulent is so popular for its charming appearance and commonly grown as a houseplant and used in landscape designing.
Through this article, we will introduce a few amazing color groups of Kalanchoes.
Let's just begin.
Red Kalanchoe Succulent
Red is an amazing bright eye-catching color. Kalanchoes with red-colored foliage or blooms will give an appealing look to your home gardens. Several types of Kalanchoe succulents produce bright red colored flowers.
Among them, Kalanchoe blossfeldiana (Florist Kalanchoe) is a quite popular succulent that bears bright red flowers typically resembling the rose blossoms.
Kalanchoe pinnata (Cathedral Bells) gives off clusters of red-orange pendent flowers that appear on large panicles. Cathedral Bells also gives a beautiful reddish hue on the serrated margins of the leaves.
Kalanchoe manginii (Chandelier Plant) produces bright red flowers that usually bloom in the spring season.
Kalanchoe sexangularis (Six angled Kalanchoe) has captivating bright red foliage which makes it a perfect choice for the rock gardens. This succulent has reddish leaf margins which turn pinkish-brown with the age.
The leaf tips of Kalanchoe luciae (Red Pancakes) become wine red in the cold months of the winter season. In some cases, the whole leaves turn red during the winter season.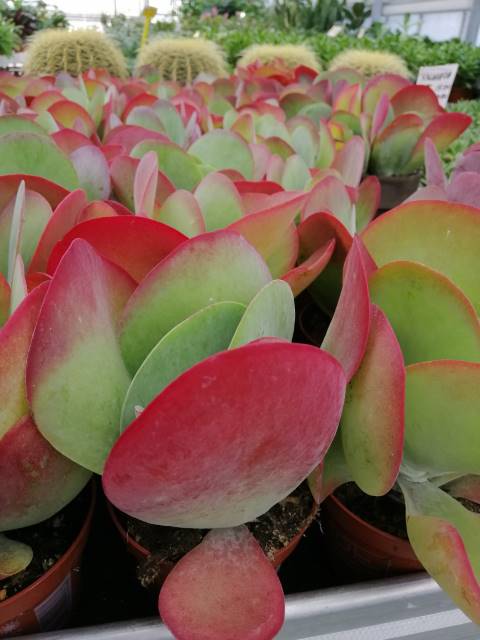 Here are a few red Kalanchoe succulent varieties you may like.
Kawi (Rose Red)
It is a Kalanchoe blossfeldiana Hybrid which produces charismatic rose-red colored blooms with green-colored leaves.
Arjuno (Red)
It is another cultivar of Florist Kalanchoe with medium green glossy foliage and red-colored flowers.
Nemo (Dark Red)
This distinct cultivar is characterized by numerous dark red colored flowers and green leaves. This cultivar has a compact and upright growth habit.
Red Jaqueline (Bright red)
Red Jacqueline is distinct for its large bright red blossoms and dark green leaves. These succulents have an upright and compact growth habit.
Orange Kalanchoe Succulent
Orange blooms are yet another exciting thing. If you like the orange color, you will find several amazing Kalanchoes varieties with orange flowers.
Florist Kalanchoe has a variant that produces clusters of attractive orange colored flowers.
Kalanchoe laciniate (Christmas Tree plant) has a terminal inflorescence which bears tubular-shaped light orange colored blooms.
Kalanchoe tessa (Pendant Flower Kalanchoe) is a beautiful succulent that produces tubular bright orange-colored flowers.
Kalanchoe rotundifolia (Common Kalanchoe) is a common Kalanchoe species which has slender stems and gives off amazing orange blossoms.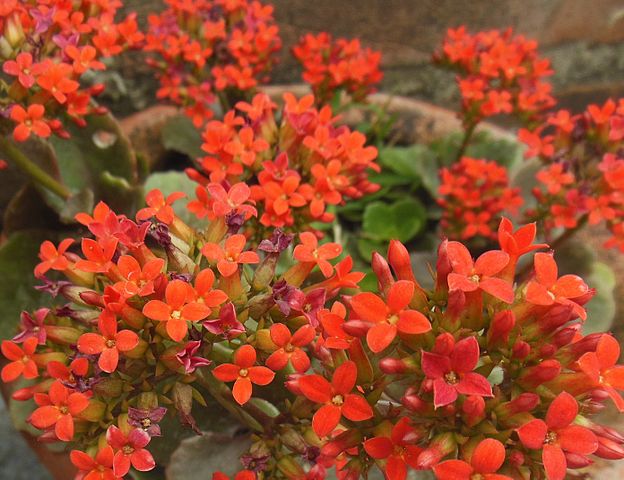 Here are a few varieties of orange Kalanchoes.
Carmen (Red orange)
It is an amazing cultivar characterized by an upright growth habit, dark green leaves, and red orange-colored flowers.
Klabat (Bright orange)
It bears bi-colored flowers having bright orange petals with a yellow base. The leaves are normal green, and the plants have moderately vigorous growth.
Patty (Bright orange)
This variety has dark green foliage and bright orange flowers. It has a compact growth habit and basal branching.
Zion (Orange)
Zion bears a dark orange-colored bloom with an early and freely flowering habit. The plant has an upright and uniform growth pattern.
Pink Kalanchoe Succulent
Pink Kalanchoes are a big treasure to cherish for people who love pink, particularly women. You will find many Kalanchoe varieties with beautiful pink blooms.
Kalanchoe Blossfeldiana have a very pretty pink colored variant, which blooms merrily by producing dense clusters of pink flowers.
Kalanchoe pumila (Flower Dust Plant) blooms beautifully in tiny pink colored flowers with distinct yellow anthers in the late winter to the early spring season.
Kalanchoe luciae (Paddle Plant) produces clusters of tubular-shaped pinkish flowers.
Kalanchoe uniflora (Coral Bells) is an epiphytic succulent, which produces bell-shaped long-lasting pinkish flowers.
Keruna (Light Pink)
Keruna is characterized by light pink beautiful tiny flowers and green leaves. The growth habit of these succulents is compact and upright.
Kerinci (Dark Pink)
This variety is characterized by dark pink flowers. The plants a moderately vigorous growth habit with a rapid growth rate.
Pellinore (Bright Pink)
Pellinore has dark green foliage and bright pink flowers with a compact plant growth pattern.
Fiveranda Light Pink (Light Pink)
Fiveranda light pink bears long-lasting pink flowers. This cultivar has a vigorous growth habit with strong branching.
Yellow Kalanchoe Succulent
Kalanchoe succulents have many great varieties for you with wonderful yellow blooms.
Kalanchoe Blossfeldiana has a yellow flower producing variant, which blooms in the late autumn to early winter.
Paddle plant has a variety that bears clusters of tubular yellow flowers arising from the center of the stem.
Kalanchoe longiflora (Tugela Cliff Kalanchoe) produces yellow-colored flowers that bloom during the spring and summer months.
Six Angled Kalanchoe gives off the most enchanting bright yellow tiny flowers with a branched inflorescence.

Yellow African (Yellow)
This variety produces dense and large-sized golden yellow-colored flowers. It has dark green dissected leaves with an upright growth habit.
Riet (Golden Yellow)
Riet is another variant with an upright growth habit. It produces dark green leaves and large golden-yellow flowers.
Yellow Josefine (Yellow)
The cultivar has an upright and compact growth pattern. Yellow Josefine produces dark green leaves and yellow-colored flowers.
White Kalanchoe Succulent
White is the color of perfection and reflects goodness. Plants with white blooms give a touch of purity and cleanliness. Kalanchoes have a range of plants with white-colored blooms.
Kalanchoe Blossfeldiana has a perfect variant that produces clusters of white flowers.
Paddle Plant also has a variant that blooms by giving off tubular-shaped white flowers.
Kalanchoe marmorata (Penwiper Plant) is yet another amazing succulent. It has star-shaped white, long-lasting flowers often tinged with a pink hue. The flowers bloom from the winter to the early spring season.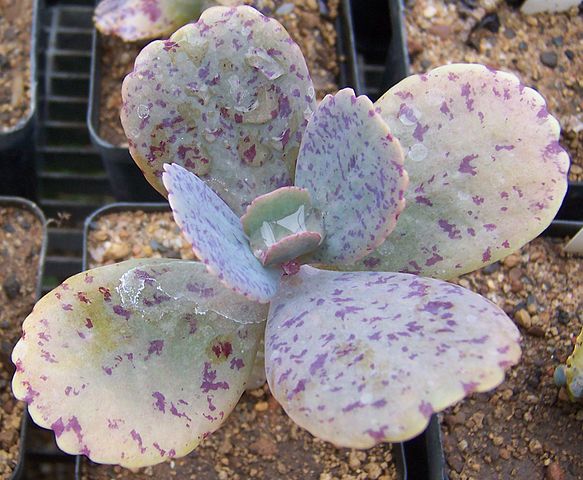 Here are the few varieties of white Kalanchoes you may like.
White Cora (White)
This succulent has large white-colored flowers. It has dark green leaves and an upright growth habit.
Simone (Pure White)
Simone is a distinct cultivar with numerous large-sized pure white flowers. The plants have dark green foliage and a compact and upright growth habit.
Snowdown (White)
This variant also produces large white-colored flowers. The foliage is dark green and the plants have an upright and vigorous growth habit.
Purple to violet Kalanchoes
Kalanchoes also have several plant varieties that show a purple to violet hue on the foliage or leaves.
Flower Dust Plants produce beautiful tiny pink-violet flowers.
Coral Bell Kalanchoes bloom in pendent red-violet flowers borne on purple-colored thread-like pedicels.
Penwiper Plants possess wonderful distinct foliage. It has grey-green leaves spotted with large irregular purple spots. The purple hue in the leaves gives a nice bicolored display to these succulents.
Purple Jaqueline (Red-purple)
It is a distinct cultivar with large intensely colored red-purple flowers. The foliage is dark green, and the plant has a compact upright growth pattern.
Purple Jodie (Light Red-purple)
It is a new and distinct variant which has a compact, upright, and moderately vigorous growth habit. The foliage is medium-sized dark green and it produces light red purple-colored blooms.
Lican (Purple)
It is another amazing cultivar with intensely purple-colored purple flowers and dark green glossy leaves. The plants have a uniform and upright growth habit.
Want to add colors to your home gardens and landscapes?
Start by adding one or more of these spectacular succulents into your home gardens or landscapes.
The best thing about Kalanchoes is that they don't require regular maintenance. So, you can have beautifully blooming succulents at your place with just a little effort and care.
Bring a few colorful Kalanchoe succulents to your home and add to the value of your place and share your experience with us.
Happy Planting!